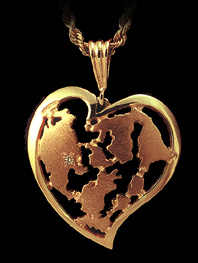 A Levin Original Design ©
Designed and created by goldsmiths Dan and Diane Levin
Hand Signed, Copyrighted, and registered at the U.S. Library of Congress.

Certain Places connect us to loved ones and special experiences as nothing else can.

In 1974 as a guest at the
Crown Jewelers and Goldsmiths Hall
in London I had my ultimate island experience.

Remember your San Juan Islands
experience with our exquisitely
detailed "Heart of the Islands" ™© pendant, earrings, or charm.

We include a custom set diamond highlight at your home site, mooring, or favorite destination.

Hand signing each creation adds the perfect finishing touch to a cherished gift that will be treasure for generations to come.

"Heart of the Islands" ™©
A Dan Levin Original Design©
Pendant or Earrings
14k gold
Hand signed

Call: 360-378-2051


Information: For our Heart of Orcas, Lopez, Shaw, Fidalgo, Bainbridge, Henry, Decatur, Whidbey, and other island creations call 1 800 234 5078.
Our customers are always on the lookout when they travel for something truly unique. Our "Heart of the Islands" ™© speaks to the specialness of your time in the islands.